Healthy Weekly meal plans
Get delicious, locally prepared meals delivered directly to your door!
How it Works
Plan(t)ing Ahead is Easy!
"We are Working on Next Week's Menu"
The Chef is Working on Next Week's Menu" Please Subscribe to the Newsletter to receive and email from the Chef once the new menu is up. Reply with any Swap or Modification Requests. Thank you in advance and have a delicious week!
Add-On Options
Featuring a new chia, soup and easy-on-the-go wraps and sandwiches every week!
Need a Plan(t) Plan?
Subscribe and Save when you select a Meal Plan! Select from the below options and get a preselected weekly mealplan delivered every Tuesday. You can Pause, Skip and Resume your plan at any time and according to your busy schedule. And you can Customize your plan by Subscribing to our Newsletter and speaking directly with our in house Nutritionist with all your tummy needs.
Why Savor food?
Silly question, right?! Savor's plant-based, chef-crafted meals just might be the best (and best for you) you've ever had. Your palate, your pocket and the planet will thank you.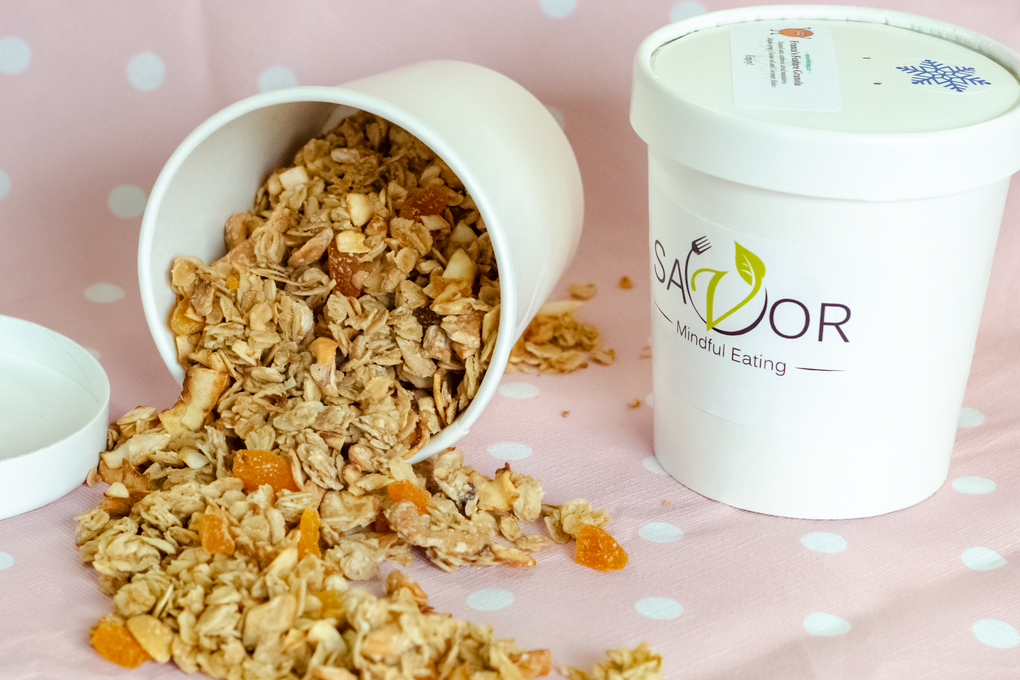 Testimonials
Seriously, it can't get any better than this. They make wholesome, creative and delicious food. Savor also has a dining area to host private dinners/events which is great. The chefs are so incredibly talented at creating plant based recipes it makes it truly a joy to open up the packed meals. Also has a smooth delivery process which was just the cherry on top! Highly recommend this service. 
The food is DELICIOUS!! I was not a "veggie" person, until I tried Savor. Everything I have tried is amazing, and everyone has been extremely nice. Don't miss out - give it a try! YUM!
Savor's meals have dramatically improved my health and peace-of- mind. They are more delicious and better for us than the food I have the time (or talent) to make at home, and they save me and my family from the stress of cooking nightly and the costly rut of takeout!
Just made my first order...it definitely will NOT be my last. To say I was blown away by the variety, quality, flavour, and generous portion sizes of the week's meals would be an understatement. Talk about value for your money!
Best food I've ever had, it's basically like you're eating at a fancy restaurant every day.

This service gets rid of grocery lists, grocery shopping, prepping, cooking, dishes. Less food waste, more quality food. My time can now be spent MAKING MONEY working instead of spending time doing food prep.  We cook on weekends when we have more free time and can enjoy cooking together. This service is for our working days when we don't want to spend our minimal free time doing the above mentioned tasks.  Love it, customer for life!  Excited for their kids meals when my son starts school too! Everyone hates making lunches and we all know it.
I've been searching awhile for a great Vegan Food Delivery Service when I stumbled across SAVOR LIVING ... WELL I MUST OF HIT THE JACKPOT as that weeks menu for SAVOR LIVING was all Vegan renditions of all my childhood favourites. Which was a nice surprise from just the quinoa and tofu I was seeing on other sites. Then to receive my very awesome bag of goodies that looked just like the pictures and TASTED SOOO AMAZING!!! I'M CAN'T NOT WAIT TO TASTE THIS WEEKS MENU!!!